PIVKA II
μTASWako PIVKA IIFor In Vitro Diagnostic Use
Intended Use
μTASWako PIVKA II is an immunofluorescence assay to be used with μTASWako i30 analyzer for the quantitative determination of abnormal prothrombin (PIVKA II) in human serum as aid in the diagnosis of malignant tumor. This product is intended for professional use.
Method
Liquid-phase Binding Assay (LBA) method
Special Characteristics
PIVKA II is a precursor form of prothrombin, a coagulation protein.
In normal liver, prothrombin undergoes post-translational carboxylation before release into the peripheral blood. The carboxylation converts specific amino-terminal glutamic acid residues to gamma-carboxyglutamic acid.
The vitamin K dependent carboxylase responsible for the carboxylation is absent in many HCC cells, and an abnormal prothrombin with all or some of unconverted glutamic acid is secreted instead. Therefore, the non-carboxylated form (PIVKA II) has been used as an HCC biomarker [1-2].
PIVKA II is also known as des-gamma-carboxy prothrombin (DCP).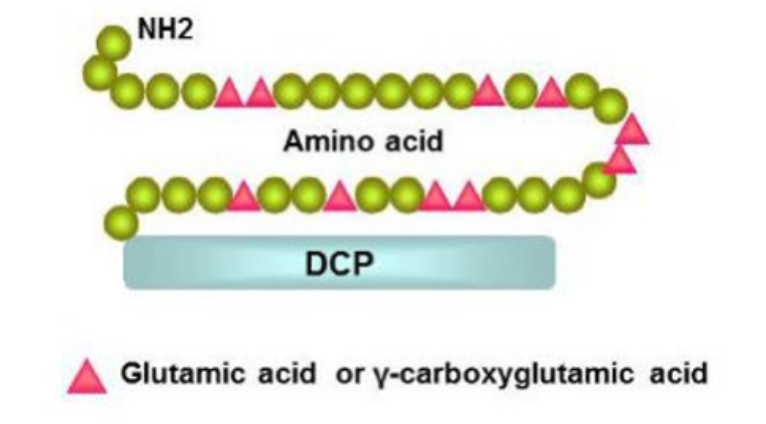 Principle of the Method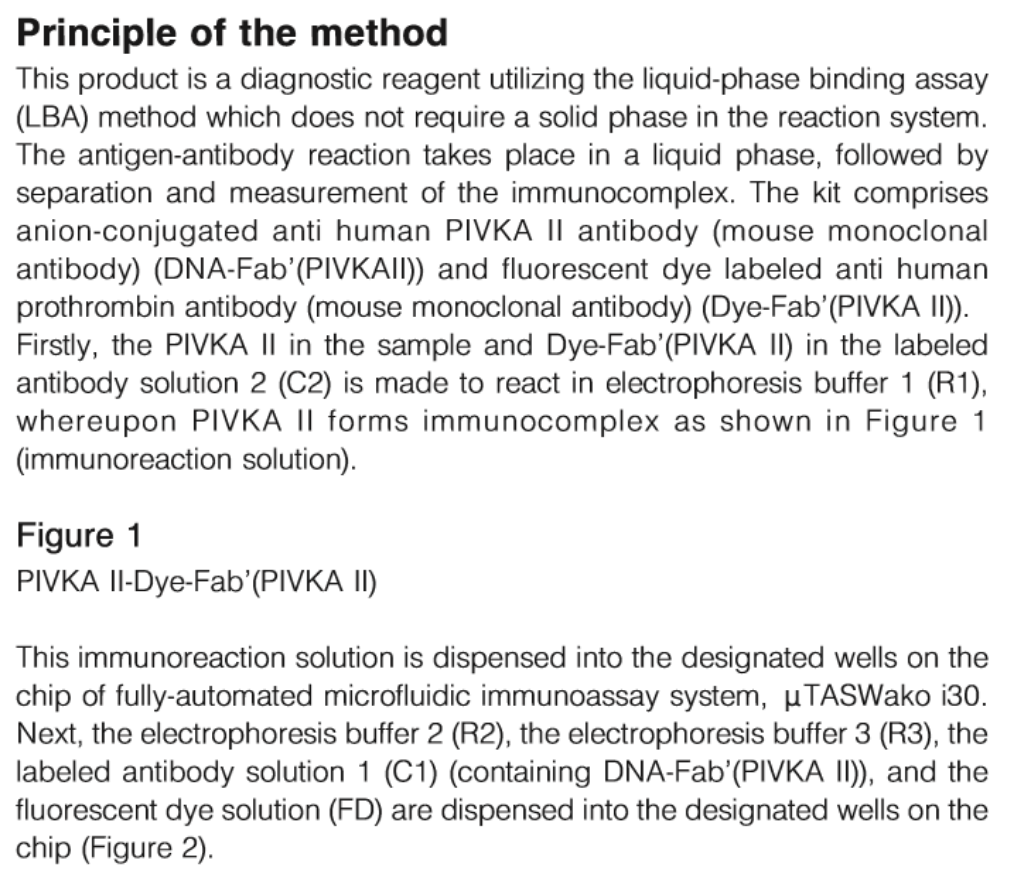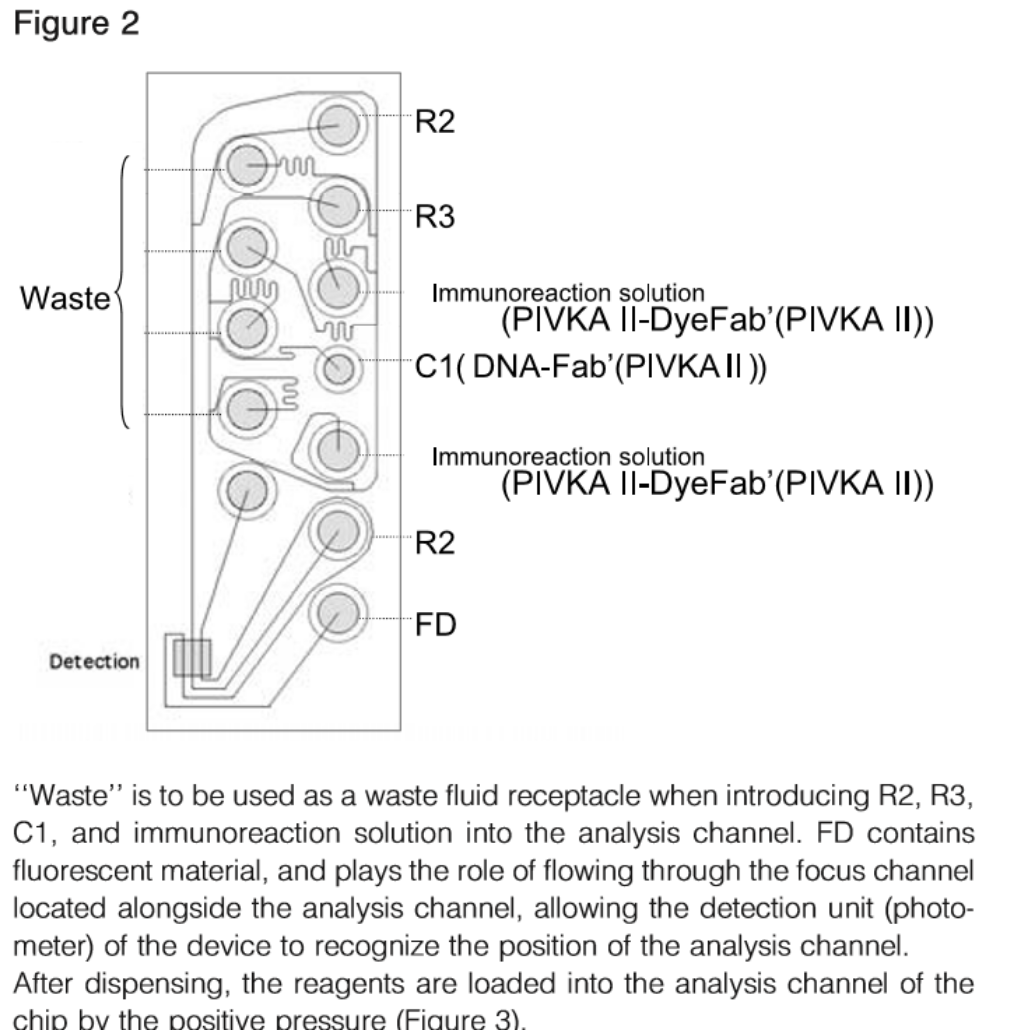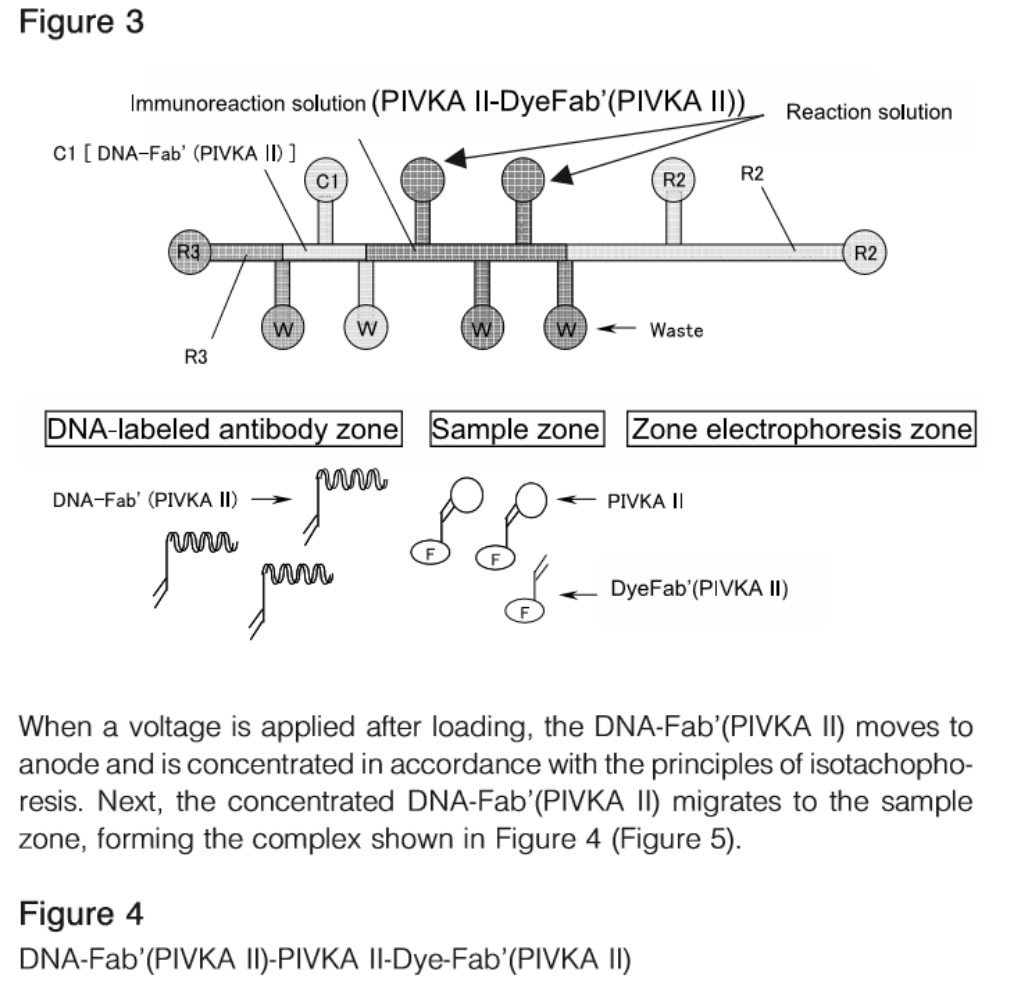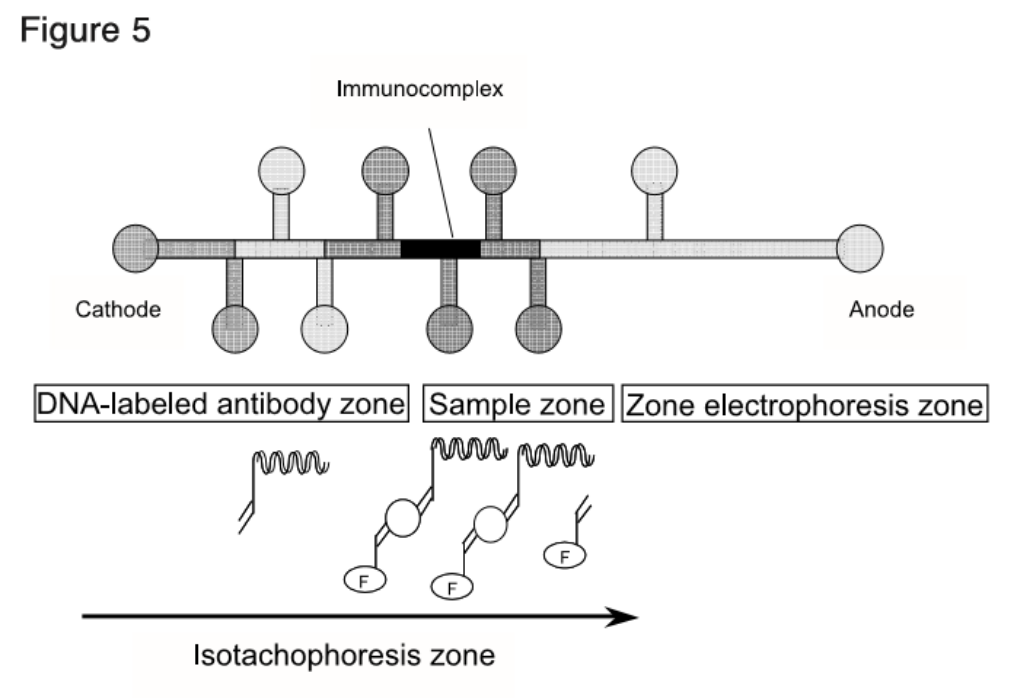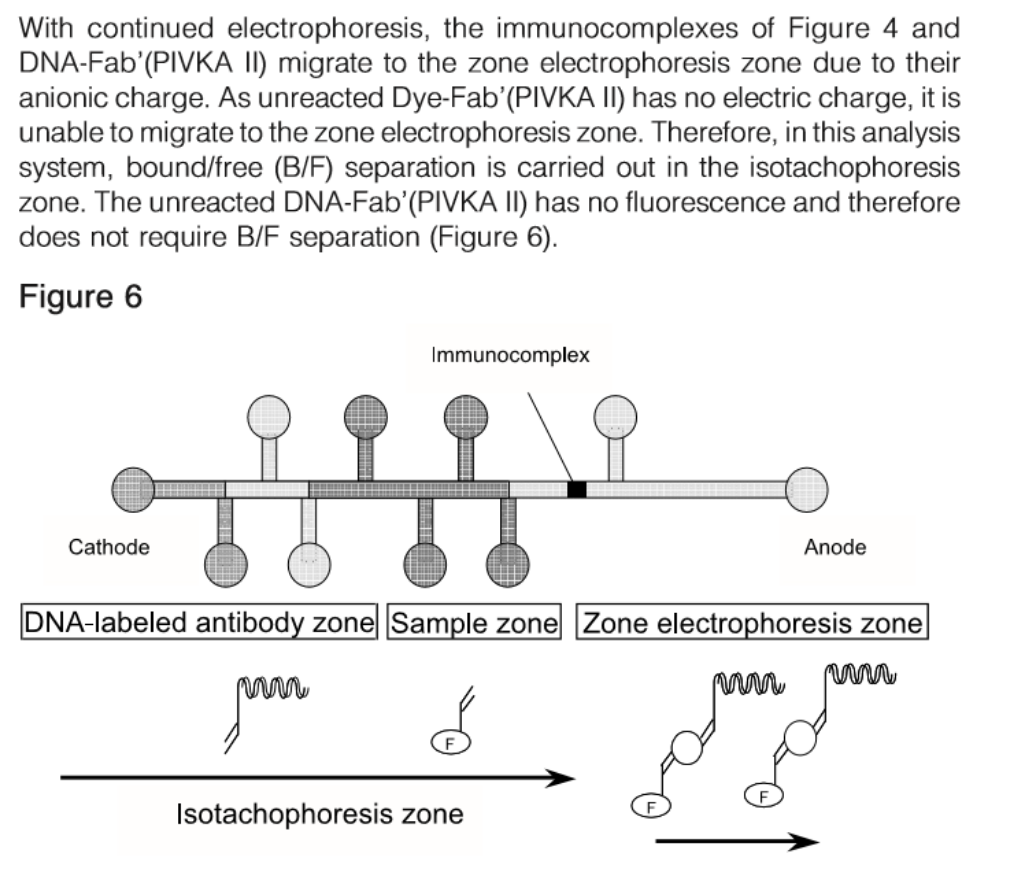 Clinical Significance
Elevated PIVKA II values (cut off 40mAU/mL) have been shown to be associated with an increased risk of HCC development in chronic liver disease patients.
PIVKA II is a serum biomarker independent from AFP-L3 and AFP for HCC risk assessment. The elevation of both AFP-L3 and PIVKA II indicate progression of HCC [3].
PIVKA II has been reported to be a specific marker for different phases of HCC development including microinvasion and development of portal vein invasion [4,5].
International authorities and organizations for liver diseases identify patients with cirrhosis and patients with chronic hepatitis B and C infection as being at high risk for HCC development [6-8]. They recommend at-risk patients be enrolled in HCC surveillance programs for early detection of HCC. The Japan Society of Hepatology recommends the use of ultrasound and biomarkers, including AFP-L3, AFP and PIVKA II, for HCC surveillance practice. Patients who have an elevation in any of the HCC biomarkers should be closely monitored by enhanced imaging modalities [9].
Simultaneous testing for PIVKA II and AFP-L3 is complementary and effective for the early detection of HCC through surveillance and risk assessment [3,10,11].
HCC is known as a cancer with high incidence of recurrence even after curative treatment. Patients who have high levels of the PIVKA II are likely to develop recurrent HCC and are associated with poor outcome [12].
The JSH recommends continuous surveillance in conjunction with ultrasound and HCC biomarkers for patients after the treatment to detect recurrent HCC early [8].
References
Liebman HA, et al. Des-gamma-carboxy (abnormal) prothrombin as a serum marker of primary hepatocellular carcinoma. N. Engl. J. Med. 1984; 310: 1427-31.
Ertle JM, et al. A Combination of a-Fetoprotein and Des-Gamma-Carboxy Prothrombin Is Superior in Detection of Hepatocellular Carcinoma. Digestion. 2013; 87: 121-31.
Choi J, et al. Longitudinal Assessment of Three Serum Biomarkers to Detect Very Early-Stage Hepatocellular Carcinoma. Hepatology. 2018 Aug. 28
Koike Y, et al. Des-gamma-carboxy prothrombin as a useful predisposing factor for the development of portal venous invasion in patients with hepatocellular carcinoma: a prospective analysis of 227 patients. Cancer 2001 Feb 1; 91(3): 561-9
Yamashita Y, et al. Predictors for microinvasion of small hepatocellular carcinoma ≤ 2 cm. Ann. Surg. Oncol. 2012 Jun; 19(6): 2027-34
Heimbach JK, et al. AASLD Guidelines for the Treatment of Hepatocellular Carcinoma: Hepatology. 2018 Jan; 67 (1): 358-380
EASL Clinical Practice Guideline: Management of hepatocellular carcinoma: J. Hepatol. 69 (2018) 182-236
Kokuno N, et al. Evidence-based Clinical Practice Guidelines for Hepatocellular Carcinoma: The Japan Society of Hepatology 2013 update (3rd JSH-HCC Guidelines). Hepatol. Res. 2015 Jan 45 (2)
Makuuchi M, et al. Development of evidence-based clinical guidelines for the diagnosis and treatment of hepatocellular carcinoma in Japan. Hepatol. Res. 2008; 38: 37-51.
Shimauchi Y, et al. A simultaneous monitoring of Lens culinaris agglutinin A-reactive alpha-fetoprotein and desgamma-carboxy prothrombin as an early diagnosis of hepatocellular carcinoma in the follow-up of cirrhotic patients. Oncol. Rep. 2000; 7: 249-56.
Hann HW, et al. Usefulness of highly sensitive AFP-L3 and DCP in surveillance for hepatocellular carcinoma in patients with a normal alpha-fetoprotein. J. Med. Microb. Diagn. 2014, 3:1
Koike Y, et al. Des-gamma-carboxy prothrombin as a useful predisposing factor for the development of portal venous invasion in patients with hepatocellular carcinoma: a prospective analysis of 227 patients. Cancer 2001 Feb 1; 91(3): 561-9
Ordering Information
Product
Storage Condition
Shelf Life
μTASWako PIVKA II
2-10°C
12 months
μTASWako PIVKA II Calibrator Set


Blank




Calibrator 1

2-10°C
12 months
μTASWako PIVKA II Control L
2-10°C
12 months
μTASWako PIVKA II Control H
2-10°C
12 months
μTASWako Chip Cassette
Room temperature
24 months
μTASWako Sample Dilution Buffer
2-10°C
12 months
μTASWako Wash Solution
2-36℃
18 months
Sample Cup S
Room temperature