Uric Acid (UA)
L-Type UA MFor In Vitro Diagnostic Use
Intended Use
L-Type UA M is an in vitro assay for the quantitative determination of uric acid in serum, plasma or urine.
Method
Uricase-HMMPS Method
Special Characteristics
L-Type UA M is not interfered significantly by other serum components. This reagent is based on Uricase-HMMPS method using color former HMMPS (N-(3-sulfopropyl)-3-methoxy-5-methylaniline) which Wako developed. The sensitivity of this reagent is stable.
Principle of the Method
Uric acid in a specimen is oxidized in a reaction catalyzed by uricase that produces hydrogen peroxide. The hydrogen peroxide formed causes N-(3-sulfopropyl)-3-methoxy-5-methylaniline (HMMPS) and 4-aminoantipyrine to undergo a quantitative oxidative condensation catalyzed by peroxidase (POD), producing a blue pigment. The amount of uric acid contained in the sample is determined by measuring the absorbance of the blue color.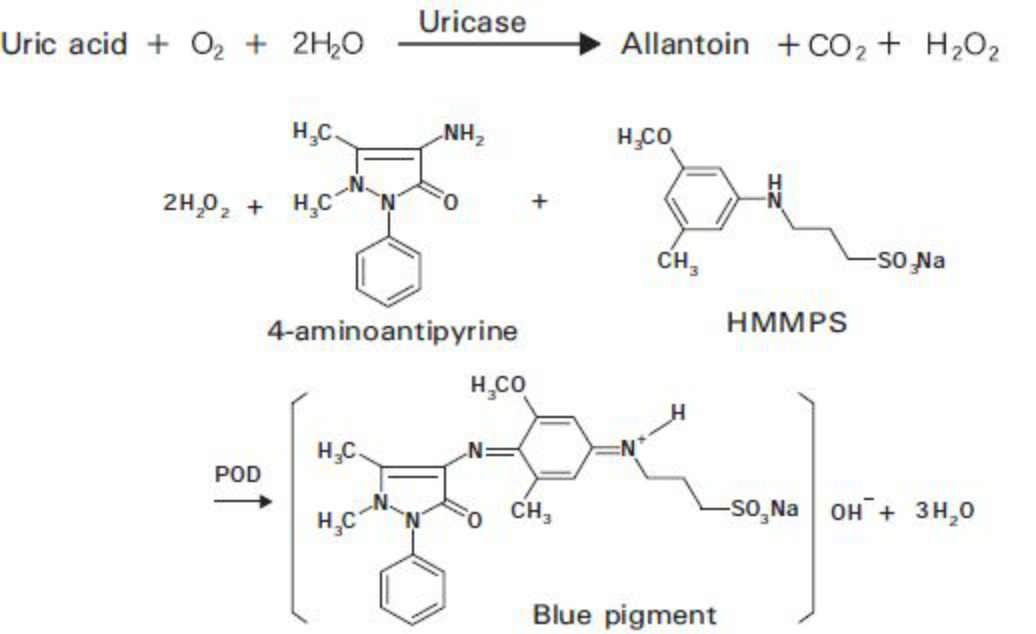 Standard Procedure

Application to automated analyzers and Package are available upon request
Ordering Information
| Product | | Storage Condition | Shelf Life |
| --- | --- | --- | --- |
| L-Type UA M | Enzyme Color A | 2-10°C | 24 months |
| L-Type UA M | Enzyme Color B | 2-10°C | 24 months |
| Calibrator | Storage Condition | Shelf Life |
| --- | --- | --- |
| Multi-Chem Calibrator B | 2-10°C | 12 months |