Calcium (Ca)
Calcium E-HAFor In Vitro Diagnostic Use
Intended Use
Calcium E-HA is an in vitro assay for the quantitative determination of calcium in serum, plasma or urine.
Method
Methylxylenol blue (MXB) method
Special Characteristics
Calcium E-HA is a convenient ready-to-use liquid type reagent which utilizes MXB (3,3'-bis[N,N-dicarboxymethylaminomethyl]-p-xylenol sulfonphthalein) as a chelating agent. Calcium E-HA based on MXB method is interfered significantly by other serum components.
Principle of the Method
When a sample is added to Buffer and Color, calcium in the sample is combined with methylxylenol blue (MXB) to form a blue color in alkaline conditions. The calcium concentration of the sample is determined by measuring the absorbance of the developed blue color.

Standard Procedure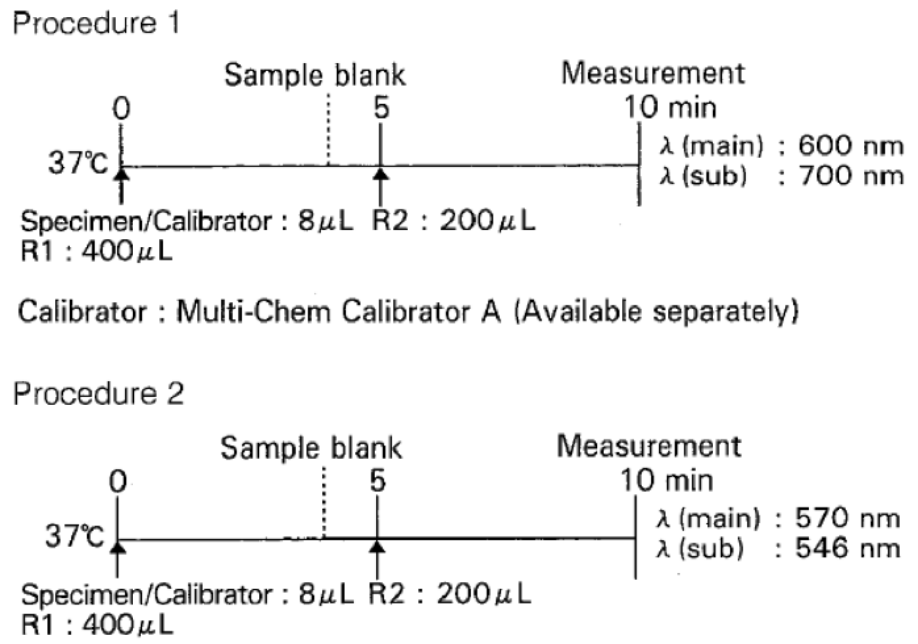 Calibrator: Multi-Chem Calibrator A (Available separately)
Ordering Information
| Product | Storage Condition | Shelf Life |
| --- | --- | --- |
| Calcium E-HA Buffer | 2-10°C | 28 months |
| Calcium E-HA Color | 2-10°C | 28 months |
| Calibrator | Storage Condition | Shelf Life |
| --- | --- | --- |
| Multi Calibrator A | 2-10°C | 12 months |