LDL Cholesterol (LDL-C)
L-Type LDL-C MFor In Vitro Diagnostic Use
Intended Use
L-Type LDL-C M is an in vitro assay for the quantitative determination of low density lipoprotein cholesterol (LDL-C) in serum or plasma.
Method
Selective elimination method
Special Characteristics
L-Type LDL-C M is based on Selective elimination method which measures LDL-C specifically, showing excellent correlation with CDC reference method (β-Quantification method). This reagent is convenient ready-to-use liquid type reagent which utilizes color former HMMPS (N-(3-sulfopropyl)-3-methoxy-5-methylaniline) which Wako developed.
Principle of the Method
First reaction (Elimination of non-LDL cholesterol)
The block polymer containing hydrophilic and hydrophobic moiety in Pretreatment selectively binds to LDL in the specimens, and protects it from enzyme (CHE, CO) reactions. CHE and CO react with non-LDL lipoprotein [chylomicron (CM), very low density lipoprotein (VLDL), high density lipoprotein (HDL)]. Hydrogen peroxide produced by the enzyme reactions with non- LDL cholesterol is decomposed to water by catalase in Pretreatment reagent.

Second reaction (Color reaction of LDL cholesterol)
When Reacting Solution is added, the cholesterol and its derivatives in LDL produce hydrogen peroxide by CHE and CO. hydrogen peroxide produced by the enzyme reactions with LDL-cholesterol yields a blue color pigment upon oxidative condensation with N-(3-sulfopropyl)-3-methoxy-5-methylaniline (HMMPS) and 4-aminoantipyrine in the presence of peroxidase (POD). The amount of LDL-cholesterol contained in the sample is determined by measuring the absorbance of the blue color.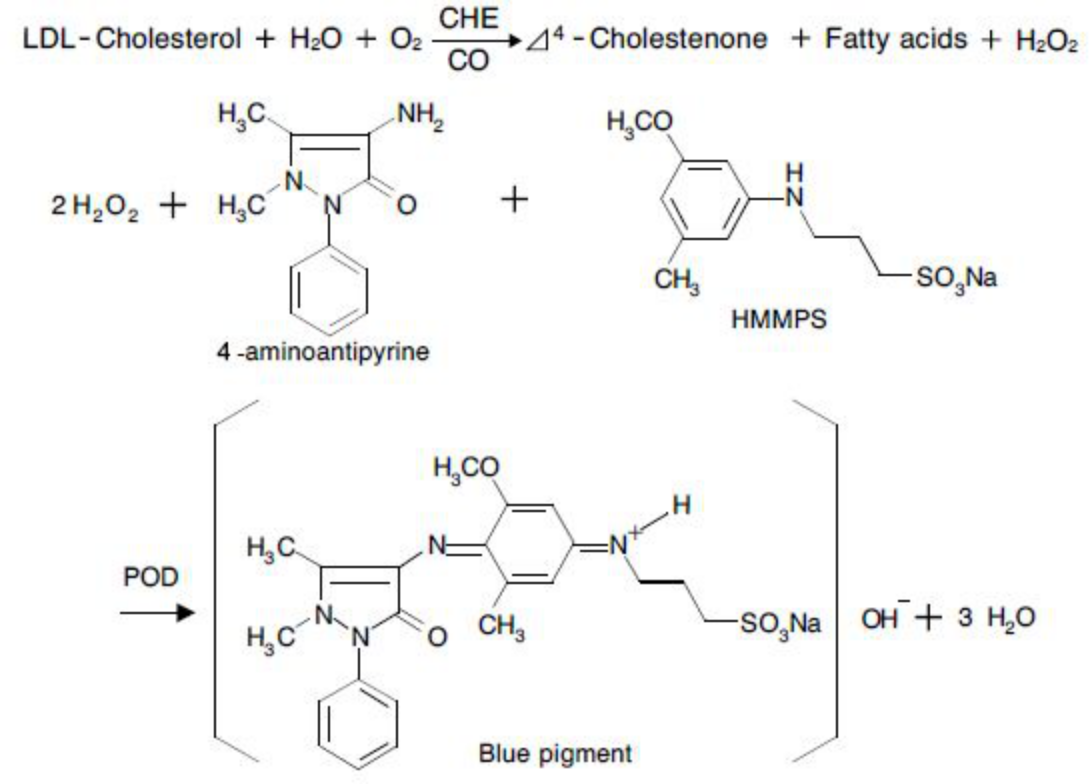 Standard Procedure

Application to automated analyzers and Package are available upon request
Ordering Information
| Product | | Storage Condition | Shelf Life |
| --- | --- | --- | --- |
| L-Type LDL-C M | Pretreatment | 2-10°C | 18 months |
| L-Type LDL-C M | Reacting Solution | 2-10°C | 24 months |
| Calibrator | Storage Condition | Shelf Life |
| --- | --- | --- |
| Multi Calibrator Lipids | 2-10°C | 12 months |