Unsaturated Iron Binding Capacity (UIBC)
L-Type UIBCFor In Vitro Diagnostic Use
Intended Use
L-Type UIBC is an in vitro assay for the quantitative determination of unsaturated iron binding capacity (UIBC) in serum or plasma.
Method
Bathophenanthroline Direct Method
Special Characteristics
L-Type UIBC based on is Bathophenanthroline Direct method is not interfered significantly by other serum components. This is a convenient ready-to-use liquid type reagent which utilizes bathophenanthroline disulfonic acid disodium salt as chelating agent.
Principle of the Method
When a sample is mixed with Buffer containing a known excess amount of iron, unsaturated transferrin in sample quantitatively binds with iron in the Buffer and is converted to a saturated state. The portion of iron which remains unbound is assayed through color development with ascorbic acid and bathophenanthroline disulfonic acid disodium salt. The unsaturated transferrin concentration in the sample can be determined by calculating the decrement of iron in the Buffer.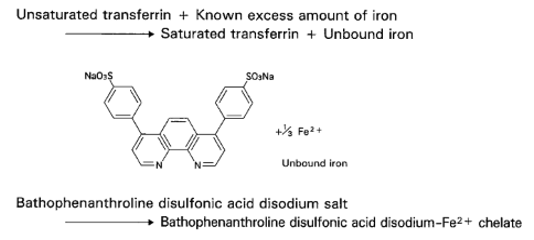 Standard Procedure

Calibrator : Multi-Chem Calibrator A (Available separately)
Ordering Information
| Product | Storage Condition | Shelf Life |
| --- | --- | --- |
| L-Type UIBC Buffer | 2-10°C | 12 months |
| L-Type UIBC Color | 2-10°C | 12 months |
| Calibrator | Storage Condition | Shelf Life |
| --- | --- | --- |
| Multi Calibrator A | 2-10°C | 12 months |