γ-glutamyl transpeptidase (γ-GT)
L-Type γ-GT.JFor In Vitro Diagnostic Use
Intended Use
L-Type γ-GT.J is an in vitro assay for the quantitative determination of the activity of γ-glutamyl transpeptidase (γ-GT) in serum or plasma.
Method
JSCC Transferable Method
Special Characteristics
L-Type γ-GT.J is a liquid reagent which is highly precise and stable to be designed for general biochemical automated analyzers.
Principle of the Method
When a sample is exposed to the Buffer and Substrate, the γ-glutamyl group of the substrate L-γ-glutamyl-3-carboxy-4-nitroanilide is transferred to glycylglycine by the action of the γ-GT, contained in the sample, resulting in the formation of L-γ-glutamyl-glycylglycine and liberation of 5-amino-2-nitrobenzoic acid. The γ-GT activity in the sample is then determined by measuring the rate of 5-amino-2-nitrobenzoic acid production.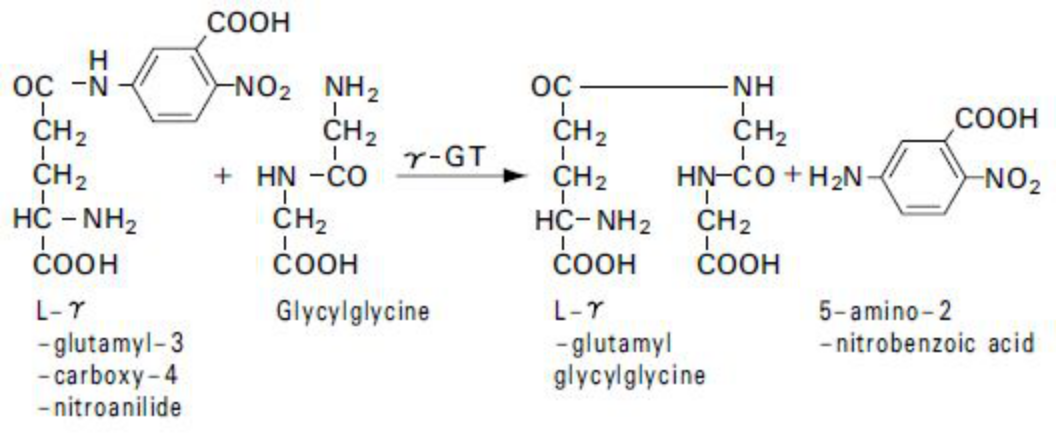 Standard Procedure

Application to automated analyzers and Package are available upon request
Ordering Information
| Product | Storage Condition | Shelf Life |
| --- | --- | --- |
| L-Type γ-GT.J Buffer | 2-8°C | 12 months |
| L-Type γ-GT.J Substrate | 2-8°C | 12 months |
| Calibrator | Storage Condition | Shelf Life |
| --- | --- | --- |
| Enzyme Calibrator | 8°C or lower | 10 months |