β-Glucan Test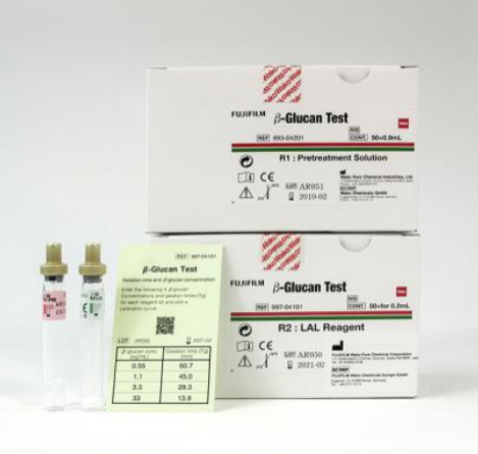 Description
Toxinometer MT-6500 based ß-Glucan Test is an in vitro diagnostic test for the quantitative determination of (1→3)-ß-D-glucan in serum or plasma. The assay is based on LAL (Limulus Amebocyte lysate) cascade reactions measured by a kinetic turbidimetric method.
Test principle
Endotoxin in a sample is inactivated by heating the sample at 70°C for 10 minutes with the pretreatment solution, which contains non-ionic detergent and polymyxin B. This pretreatment also deactivates inhibitory protein substances in the sample. When the pretreated sample is mixed with the LAL reagent, (1→3)-ß-D-glucan in the sample activates Factor G which initiates the cascade reactions shown in Fig. 1. The turbidity change caused by the gelation reaction is detected as transmittance change. The time taken for the transmittance to reach the threshold value is measured. This interval is defined as gelation time (Tg, in Fig. 2) and correlates with (1→3)-ß-D-glucan concentration. This concentration is automatically calculated from a standard curve, which is available for each lot of LAL reagent.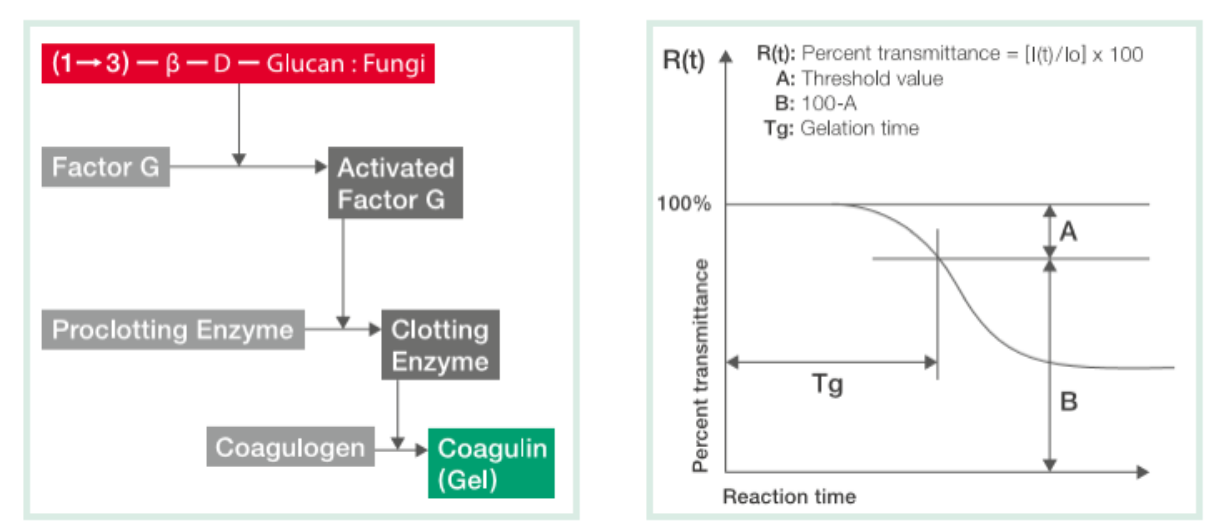 Fig. 1: Cascade reaction of LAL  Fig. 2: Principle of kinetic turbidimetric method
Test procedure
1. Pretreatment
0.1 mL of plasma or serum are added to 0.9 mL of pretreatment reagent. After mixing, the sample is heated at 70°C for 10 minutes and cooled on ice subsequently.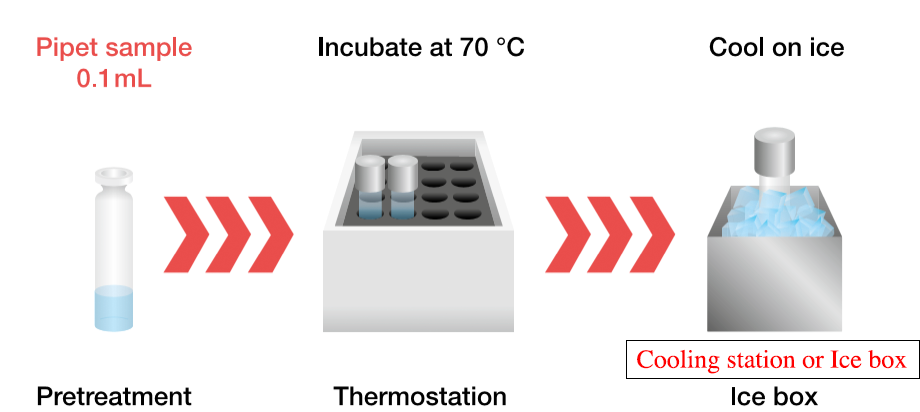 2. Measurement
0.2 mL of the pretreated sample is transferred into the LAL reagent tube. After mixing, the sample is inserted into the Toxinometer. The measurement starts immediately and takes 90 minutes.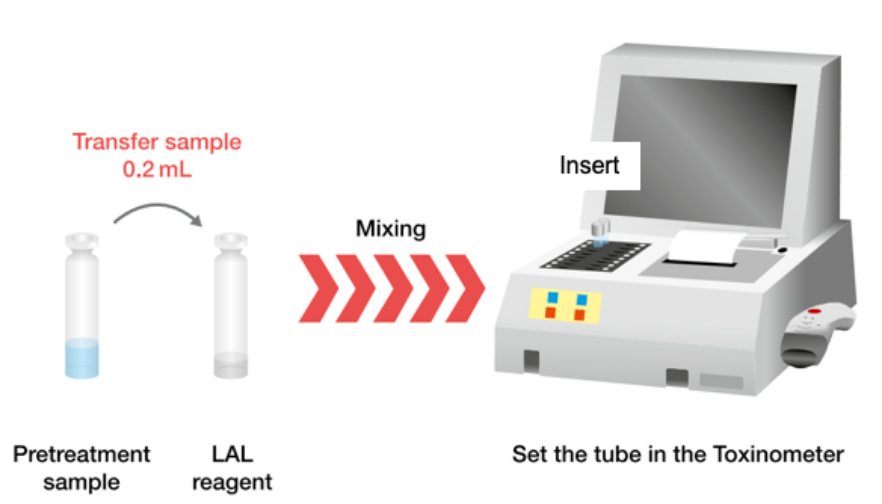 Key Features
Monotest reagent
Calibration by QR code scan
Quality control available
Ready-to-use reagents
Quantitative ß-glucan measurement by kinetic turbidimetric method
Measurement range: 6 - 600 pg/mL
High precision and no significant interference observed due to bilirubin, hemolysis or antifungal drugs
Storage
Store at 2-10° C.
Ordering information
Product code
Product Name
Pkg size
997-04101
ß-Glucan Test R2: LAL Reagent
50 x for 0.2 mL
993-04201
ß-Glucan Test R1: Pretreatment Solution
50 x 0.9 mL
999-04301
ß-Glucan Sample Diluent
10 x 0.9 mL
995-04901
Aluminium Cap
10 x 10 pieces
995-05001
BC Tip EXT
100 tips
991-05101
BC Tip 1000-R
100 tips
995-04401
LAL Control


R1:LAL Control(lyophilized)




R2:Control Dissolution Buffer

 
10 x for 0.5 mL
10 x 2 mL